BIG DATA ANALYTICS & VISUALIZATION
The Fastest Visual Analytics for Big Data
Imagine all data at your fingertips. Big Data. Legacy Data. Streaming Data. Immerse yourself in dynamic visualizations that unfold the story in front of you.
Zoomdata receives Perfect Recommend Score in Dresner's 2018 Wisdom of Crowds BI Market Study
We couldn't be more excited to have received a perfect recommend score two years in-a-row! Results are compiled from customer user surveys, and our customers have spoken.
Monthly Live Demo
Zoomdata delivers lightning fast visual analytics for any data source. Sign up for a live demo to see us in action and have all your questions answered.
Embed Visual Analytics Into Data-Driven Apps
Zoomdata makes it easy to embed visual analytics into any application. We built the client side of Zoomdata using highly flexible, modern web technologies including HTML5, JavaScript, WebSockets, and support for CSS. These technologies can meet the demands of virtually any user environment--from web browsers to touch-oriented mobile devices. And with our chart studio, you can create custom visualizations using JavaScript libraries such as D3, Leaflet, NVD3, and more.
Unlock Insights From Big Data
Big data should deliver big insights. But it doesn't always work out that way. Unless you have Zoomdata. We provide a simple, intuitive, and collaborative way to visually interact with data to solve business problems. We enable interactive data visualization at any scale—from billions of rows of data to real time streams in less than a second. Our innovative technology accelerates time-to-big-data-insight by removing complexities that prevent traditional BI and analytics application users put the power of big data to use. A modern enterprise needs modern set of analytics - supporting big data and everything else, based on a streaming architecture. This is the era of visual analytics at the speed of thought.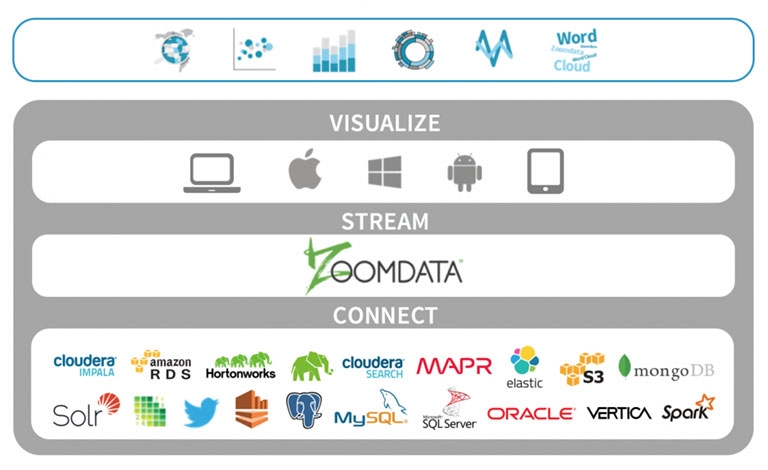 Cutting Edge Companies Using Zoomdata
An Up-to-Date Look at Zoomdata