Today Zoomdata is announcing a partnership with SAP's Analytics team to bring the power of Zoomdata's big and real-time data analytics to the SAP Lumira 2.0 platform. SAP Lumira and Business Objects are used by thousands of companies around the world.
SAP is also innovating quickly on their SAP Big Data (formerly Altiscale), Vora (based on Spark), Cloud Platform, Leonardo, HANA, and Machine Learning platforms, all of which Zoomdata can connect to seamlessly. We created extensions to SAP Lumira that allow Lumira users to connect to these SAP platforms, as well as to the other sources that Zoomdata supports, including Hadoop, streaming, search, cloud and NoSQL datastores.
We exposed Zoomdata's real-time Data DVR in Lumira through front-end and back-end extension widgets and components, to allow for SAP users to view real-time streaming data, as well as rewind and fast forward through big data history. We've also integrated our data sharpening technologies, which allow for visualization of billions of rows of data in big data systems almost instantaneously.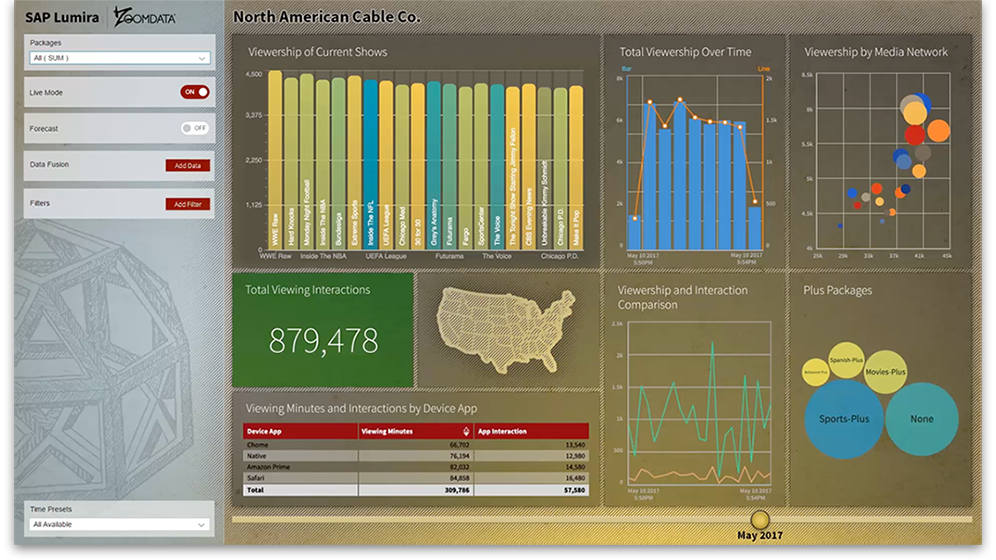 And, using our Zoomdata data Fusion capabilities, Lumira users can now fuse together data from disparate data backends on the fly, to analyze data across sources without having to move the data.
These capabilities will also soon be available to developers through the SAP cloud platform (SCP), so that they can be embedded in other applications and seamlessly scaled through deployment on SCP.
At Zoomdata, we believe that most analytics in the future will be contextual and embedded directly in systems where people are making business decisions. Embedding our advanced real-time streaming and big data capabilities in SAP's Analytics portfolio is a step in that direction, to empower large numbers of business people to make data-informed decisions on the freshest and most detailed data available. We are excited to work hand-in-hand with SAP and SAP's customer base to bring the power of our technologies to bear on some of the fastest and biggest data available.
To learn more about what we're doing with SAP, you can read the press release and also check out the SAP partner page, which has a great demo and other assets for you to explore.