Big Data Adoption
Watch this video to learn about the real market dynamics -- rather than the hype -- that are driving big data adoption.
Dresner Advisory Services started covering big data analytics two years ago. For its 2017 study, it surveyed 200 respondents from around the world. Respondents included IT and line-of-business executives. Among the respondents, the general level of knowledge about big data has risen as much of the hype around big data subsided. Mainstream organizations are adopting big data in greater numbers. And organizations that weren't considering adoption of big data a couple of years ago are now.
Transcript
At Dresner Advisory Services, we actually conduct a number of primary research studies during the course of the year - I think 15 this year - focused on the business intelligence and analytics marketplace.  And big data analytics is one of those market dynamics that we started covering two years ago.  And the reason we waited a couple of years, because we've been doing this for 10 years now, is because there was so much hype in the marketplace that we really wanted it to settle down.
Beyond the Big Data Hype
And when we covered big data analytics, we wanted to do it in our own way.  So, we didn't want to define it as three Vs or five Vs or some of the other hype that you hear out there.  We wanted to focus on those tools and solutions that were deeply integrated with the Hadoop ecosystem. So, as such, we went out there--we survey audiences twice a year, and in this case, we collected responses from just over 200 respondents globally.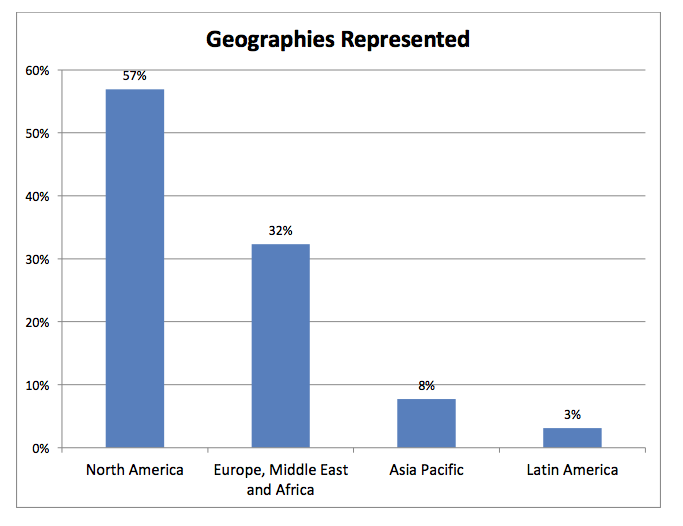 Figure 1 – Geographies represented
Source: Dresner Advisory Services Big Data Analytics Market Study;  Copyright 2017 -- Dresner Advisory Services
Trends in Big Data Adoption
About just over half of them were from North America, 35 or so percent were from EMEA, and the balance were from Latin America and Asia Pacific.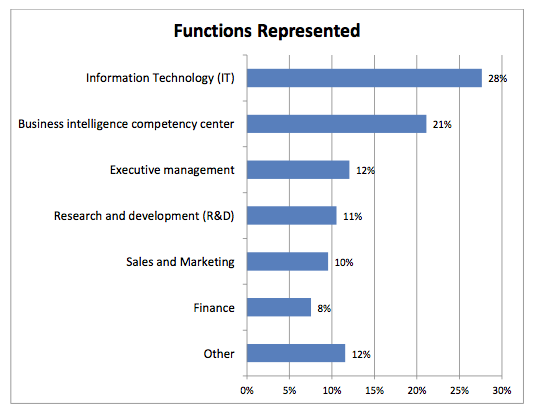 Figure 2 - Functions represented
Source: Dresner Advisory Services Big Data Analytics Market Study;  Copyright 2017 -- Dresner Advisory Services
About 27 percent were IT respondents, and the balance were line of business.
So, some of the key findings from our survey was that, from 2015 to 2016, there was a huge jump in adoption, which was striking to us.  So, I think what you start to see in the marketplace is that the hype is settling down a bit, and the understanding, the education levels are up, the expertise and also the technology has matured to a point where mainstream organizations can start adopting it.
The other thing that we found quite interesting is, even those that have not deployed big data analytics to date are much more actively considering it. So, previously, in 2015, many of them were saying we would consider it in a couple of years.  Now they're saying we're considering it for this year.