Big Data Search: The Importance of Elasticsearch, Apache Solr, and Cloudera Search
This video looks at the role of search in big data.
As text analytics and natural language processing gain importance in business intelligence efforts, big data search will gain more of the spotlight. Elasticsearch, Apache Solr, and Cloudera Search are the main players right now. Cloudera Search is Apache Solr implemented in the Hadoop environment. Sentiment analysis of social media data from sources like Facebook and Twitter is one use case where big data search will play an important role.
Transcript
Big data search, which did not resonate quite as much as some of the other topics associated with big data, is still important, and we think it's an emerging area.  In particular, what it allows you to do is textual analysis and natural language search and also indexing text.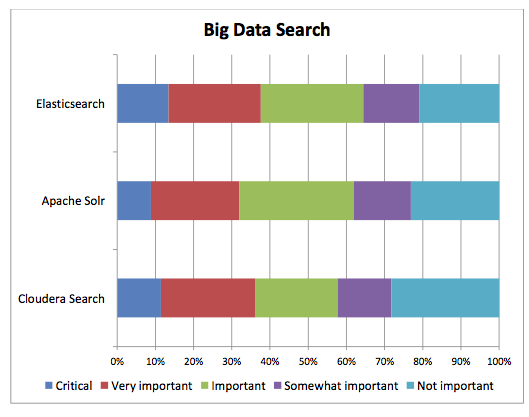 Figure 36 - Big data search
Source: Dresner Advisory Services Big Data Analytics Market Study;  Copyright 2017 -- Dresner Advisory Services
Search Growing in Importance
So, when we look at the chart here, we have three different implementations in big data search.  We have Elasticsearch, we have Apache Solr and Cloudera Search.  And Cloudera Search is actually Apache Solr implemented within the Hadoop ecosystem. From a year-over-year comparison, all of the approaches increased in priority.  However, when you combine Apache Solr and Cloudera Search, they're far and away higher than Elasticsearch by itself.
Big Data Search Use Cases
So, when we think about use cases for big data search, for years, we've been trying to do tech space analysis to be able to classify text concepts and measure them empirically, and a great example of this is social media analysis where organizations are trying to determine sentiment within their customer base using a Twitter feed or using a Facebook feed or social media.  So, being able to take all that text and analyze it and classify it and once again analyze it using traditional approaches is very valuable.